Words by: Kamri Phillippi
2 months ago, my husband Taylor and I moved from KCMO back home to Wichita, Kansas.
Home.
With the rich familiarity and deep joy that comes with being back where our roots first grew, came an invitation to create something new for ourselves here.
We had only ever existed apart in Wichita, so how would we exist now together?
Use the fruit of what's been grown to plant something new.
All of the credit goes to my husband for our newly cultivated table tradition. It is very simple, and it honors both of our hosting styles. To him, hosting is about making people feel so welcome that they can spill anywhere and on anything in the house. To me, I want to remember the night. Nothing has fortified my faith quite like recounting what He has done, and I want to remember people at my table or on my couch in the same way. The first time, it happened by accident. I forgot the coasters, and my glass made a distinct ring on the table.
So, we are doing away with coasters. And heat pads under steaming dishes. And table cloths.
We want to see people's marks. We want to watch your glass condensating, preparing to make its mark, as you are talking about your day. I smile now, thinking about a friend calmly suggesting a stain remedy after she saw this fritatta's mark on the table, to which I cheerfully remarked, "Oh! We are making that a thing now. Tay suggested we continue to make those marks to remember the people who have been there."
Welcome. Remembering old and new.
A week after moving home I had a mild meltdown (any over-analyzer's out there? I love you) that was plagued with my fear of making Tays parents feel unwelcome. I am thankful it happened, because it helped me realize something.
Any place we go, we want to feel welcome. Like we belong. Like someone is waiting behind the door to tell us they've been waiting all day to see us. That is how God feels about us. And that is what I have asked for our house to feel like for people.
You are welcome here. You are bear hugged here. You can sit on any couch seat and throw your shoes wherever. Put your dirty dishes on any surface that will hold them because I am not touching them for 24 hours.
We have been looking forward to your mark on our table.
Corn, Jalepeno, Brie and Sweet Potato Frittata
Yeild: 4–6 Servings
2 tbsp olive oil
4 cloves of garlic, minced
2 jalepenos, seeded and chopped
1 8 oz. bag frozen corn
1 onion
1 sweet potato, roasted and cubed
3 handfuls of spinach
2 oz basil, chopped
7 large eggs
1 cup of milk
Salt and Pepper to taste
8 oz brie, cut into chunks
Heat the oven to 375°F. Grease a 10 inch pan and set aside. In a large skillet, heat the olive oil and use to sautee garlic, jalepenos, corn, onion, sweet potato, spinach and basil until tender. In a large bowl, whisk eggs and milk.
Season to taste with salt and pepper. Pour the sauteed veggies into the pan. Pour the eggs and milk over it. Disperse brie throughout.
Bake for 30-40 minutes, or until set. Allow 5-10 minutes before serving.
Recipe adapted from Eats Well With Others.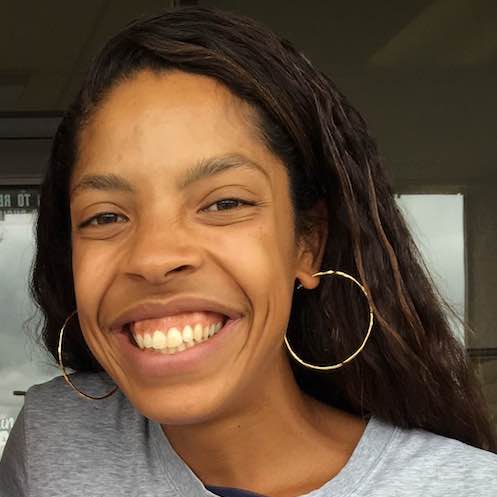 KAMRI PHILLIPPI
Hi! I'm Kamri, and right now my favorite hat to wear is wife. I love the Light of Jesus, dirty rap music, sharp wit, wedding dances, Carolina (GO HEELS!), and walking to the grocery store with a good podcast. I feel most alive and worshipful doing two things: writing and rocking back and forth on my big rug, scream singing. Coming from a white mama and a black daddy, I have a deep joy in delighting in all things mixed; my food, ice cream with toppings and most importantly, people's narratives despite their skin color. I write about all things described above at musingsofamixedwifey.com
About Table Traditions:
This October, join me and my friends in the kitchen as they share some of their favorite recipes and foodie traditions. Table Traditions stems from a belief in making a routine meal an occasion to celebrate life and good food. I hope that these stories and recipes will spark some of your own mealtime traditions.
Click here to see all the Table Traditions posts.