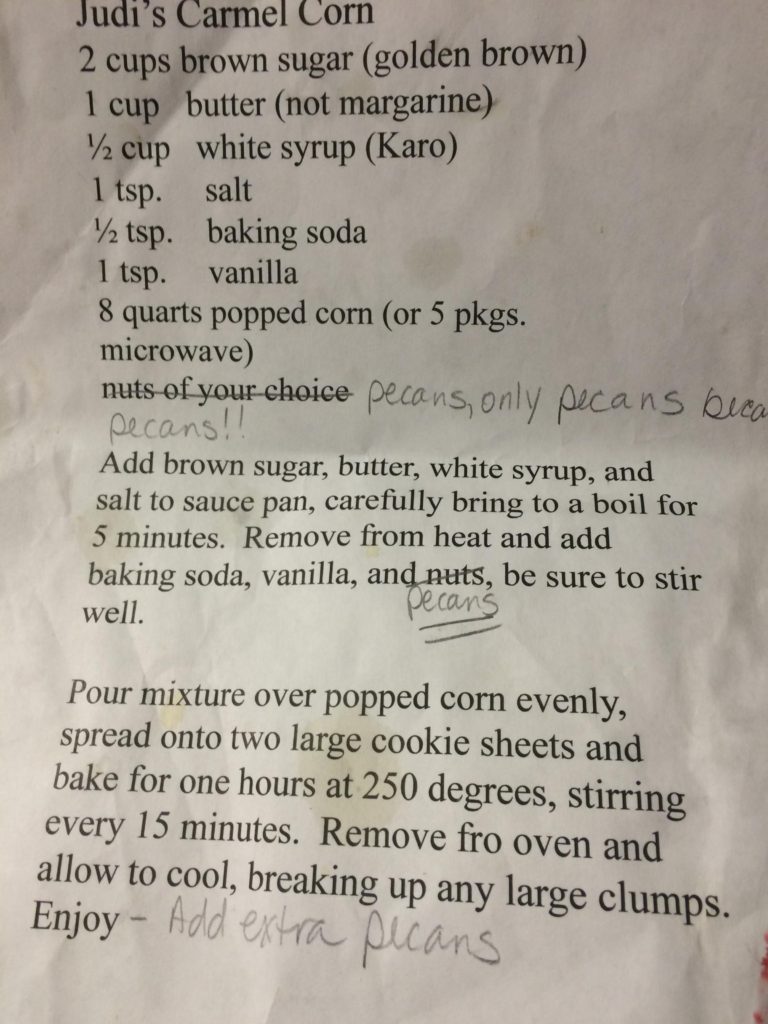 Words by: Kalynn Cheyney
Did you notice the handwriting? That would be my mother. Can you tell she likes pecans? She always shouts "PECANS, MORE PECANS!" I think she needs a print of that hanging in her kitchen. My grandmother Sharon (Judi is her sister) would make this caramel popcorn with pecans (more pecans!) every Christmas.
This recipe is fairly easy, but messy. The messy ritual of stirring the popcorn every fifteen minutes is calming to me. The first time I made this I was shocked by the magic of making caramel. When you put in the baking soda, the caramel literally transforms before your eyes in color and consistency – like I said, magic. I feel like Hermione when I make this.
Besides feeling like part of the Harry Potter universe, why do I go through the process of covering my kitchen with popcorn, pecans (more pecans!), and caramel every year?
It all began a few years ago when my grandmother passed away suddenly just before Christmas. My grandmother exuded pride for her entire family. I could not leave her house without feeling important, loved, valued, and cherished. The love I felt with her was palpable.
Her loss is still devastating today, but I'm finding beauty in the mess and connection in the loss by continuing this Christmas tradition.
The morning after she passed, I was with my family doing the whole telling stories – sobbing – telling more stories – then laughing which eventually led to the terrifying laugh-cry. So in the middle of the story-telling, my mom exclaims, "Who's going to make the caramel popcorn!?"
I immediately cry, "I will mom, I'll do it!"
That decision set in motion a tangible way I could work toward healing. This is now one of my favorite memories with my mom. We connect and heal together – through popcorn, because there is beauty in the mess.
Judi's Carmel Corn
2 cups brown sugar (golden brown)
1 cup butter (not margarine)
1/2 cup white syrup (Karo)
1 tsp. salt
1/2 tsp. baking soda
1 tsp. vanilla
8 quarts popped corn (or 5 packages microwaved)
nuts of your choice (but clearly I recommend pecans)
Add brown sugar, butter, white syrup, and salt so sauce pan, carefully bring to a boil for 5 minutes. Remove from heat and add baking soda, vanilla, and nuts, be sure to stir well.
Pour mixture over popped corn evenly, spread onto two large cookie sheets and bake for 1 hour at 250 degrees, stirring every 15 minutes. Remove from oven and allow to cool, breaking up any large clumps..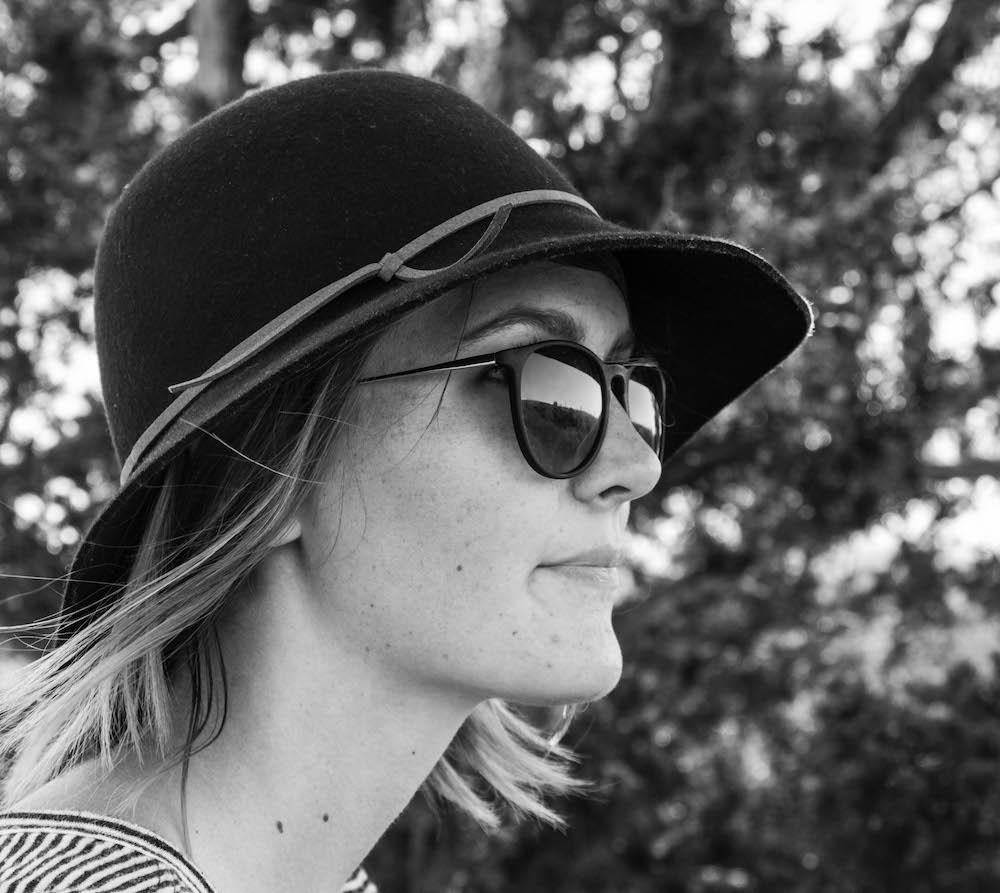 KALYNN CHEYNEY
I like rearranging furniture at 11pm, drinking exclusively McDonald's Coke, and pretending to be a morning person. I'm currently in grad school getting my Masters in Social Work and am just now exploring the world of blogging. The sweetest part of this season of life is learning how to lean in and listen to the Father's quiet [but ever present] voice. Like what Kalynn has to say? You can read more on her site here.
About Table Traditions:
This October, join me and my friends in the kitchen as they share some of their favorite recipes and foodie traditions. Table Traditions stems from a belief in making a routine meal an occasion to celebrate life and good food. I hope that these stories and recipes will spark some of your own mealtime traditions.
Click here to see all the Table Traditions posts.