Words by: Melanie Fenwick
My dad's 70th  birthday was approaching and I was determined to create a memorable gift for him. In no short terms, my dad gives extraordinary presents to everyone he knows. My two sisters and I attempt to keep up with him. With a clear goal, I dug down deep to consider what would honor him in this milestone.
Almost instantly, the idea to write a dad-inspired cookbook came to mind. My dad is a master cook and host of any party or family dinner. His staple recipes are the thread tying together all my childhood memories. He throws every type of party in our home. Filling our kitchen, living room, and halls with toasts and a variety of folks. But most importantly, I am who I am because of who he is. All my major life lessons are learned around his dinning room table.
It was a little bit daunting at first to encompass who my dad is in one book especially, on my own. I asked a community of family members and lifelong friends of my father to devote their words, memories, photos, and recipes to the book. After a month of writing and receiving inserts from others, I spent a day cooking every recipe that was going to be represented. I invited my closest friends over to eat the giant meal while I took photos. After the book was finished, the title came to me as quickly as the idea: My Father's Kitchen: the meals he cooked, the parties he threw and the lessons I learned around his table.
Once the book was finished and bound; I read it to my father on his big day. My dad, the man who is never without a word, was silent as both our eyes filled with tears as we went page-by-page. It was one of the best moments I've ever witnessed.
Chicken Fenny
6 chicken breasts
2 cans of cream of mushroom soup
2 cans of chopped mushrooms
1 can of sour cream
"Mix the concoction together", as Fenny would say, and place in a separate bowl. Bake the chicken in a 13×9 pan for 30 minutes. Pour the mushroom concoction over the chicken and bake another 30 minutes. Dish is best enjoyed with dinner rolls and green beans.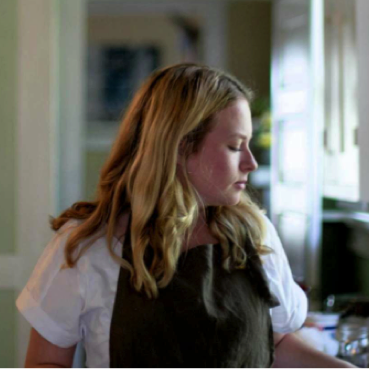 MELANIE FENWICK
My name is Melanie Fenwick and I live in downtown Denver in a big, old house. I work as a children's ministry coordinator for Park Church Denver and part-time photographer. I'm a fan of dinner parties, whiskey, and fostering community. I'm thankful for the kindness of God in all seasons. Like what Melanie has to say? Follow her on Instagram at @melaniefenwick.
About Table Traditions:
This October, join me and my friends in the kitchen as they share some of their favorite recipes and foodie traditions. Table Traditions stems from a belief in making a routine meal an occasion to celebrate life and good food. I hope that these stories and recipes will spark some of your own mealtime traditions.
Click here to see all the Table Traditions posts.