Words by: Tori Schaulis
Each time a new season rolls around I'm convinced it's my favorite. I grew up in the Midwest and loved watching the leaves turn brilliant reds, yellows and oranges as the temperature dropped and the air became crisp and cool; it was magical. Now I'm living in Texas, where the seasons are a bit shy, often not revealing themselves until it seems way past due. So whenever I catch even the slightest glimpse of fall, something inside me comes alive and calls for celebration.
This past week the weather finally cooled down enough for a few slow mornings on my back porch, a long walk with a dear friend and an intimate dinner party in my backyard. I bought myself a fall scented candle, baked snickerdoodle cookies, pumpkin risotto and pork tenderloin with baked apples and cinnamon. Now that October has begun, I feel expectant and excited, but it's deeper than a simple season change. I've found that when I pause to enjoy life's moments in the shifting seasons (especially around the table) things feel a little bit richer than before.
Tradition is a big deal in our house; my mom always goes above and beyond to celebrate. Even now when my siblings and I come home, she insists on gathering around the table to share a meal. Her dining room table is always decorated and prepared, waiting for the next guests to sit down and enjoy. At the entrance of a new season, she pauses to garnish her table with new colors and textures as if she were prophetically welcoming newness and change. As a kid, I remember being filled with anticipation each time the new table scape came to life.
Although my table isn't as glamorous as my mother's (I live with 6 roommates), I've managed to host a simple dinner party every now and then. I made this pumpkin risotto a few weeks ago for a friend and was so impressed by the way it turned out, I just had to share. The following recipe is adapted from Watch Learn Eat's blog.
Fall Pumpkin Risotto with White Wine
1 ½ cartons low-sodium chicken broth (I used the organic Central Market brand)
2 tbsp butter (or butter alternative)
2 tbsp olive oil
½ minced yellow onion
2 cups Arborio rice
1 cup + 1 tbsp white wine (I used Pinot Grigio and saved the rest for dinner!)
1 can (15 oz) pumpkin
¼ cup Pecorino Romano cheese
½ cup shredded Parmesan cheese (I added more to taste)
1 tsp fresh thyme
½ tsp nutmeg
¼ tsp pepper
Sea salt to taste
Roasted & salted pumpkin seeds for garnish
Warm chicken broth over medium heat. Heat butter and olive oil in pan until butter is melted. Briefly saute the onions over medium heat for a few minutes. Add the rice and stir. Add ¼ cup of the broth and stir. When broth is absorbed, add the wine and stir. Once wine is absorbed into the rice, add another ¼ cup of broth and stir. Continue adding ¼ cup of the broth to rice mixture until completely absorbed. The mixture should appear creamy and the rice will be tender. This should take about 20 minutes with constant stirring.
Add the pumpkin and stir. Then add the cheese, thyme, nutmeg and pepper. Stir until combined. Add sea salt and taste – at this point you may add more cheese if needed. I added about a ¼ cup extra. Garnish with pumpkin seeds and serve warm.
Serves 8 and pairs well with a chilled glass of Pinot Grigio.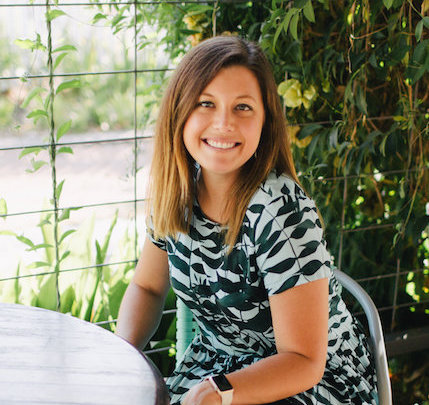 Tori Schaulis
At heart, Tori is a modern day pioneer, social entrepreneur and creative thought leader. She works as a strategic communicator and storyteller and believes we were each made to give our lives away and to come alive as we learn to invest in those around us. You can often find her dreaming and writing up something new on her back porch with a cup of coffee in hand. Join her conversation about wholehearted living on her blog at www.torischaulis.com.
About Table Traditions:
This October, join me and my friends in the kitchen as they share some of their favorite recipes and foodie traditions. Table Traditions stems from a belief in making a routine meal an occasion to celebrate life and good food. I hope that these stories and recipes will spark some of your own mealtime traditions.
Click here to see all the Table Traditions posts.