Pursuing creative aspirations can be intimidating and scary, but Robyn Field has surrendered her fears over to God and leapt bravely into the world of children's writing. A creative that finds her strength in her Creator, Robyn shares about her role as a wife, writer, and woman of God.
Tell us about the moment you realized that you wanted to be a writer.
I've loved to read and write since before I can remember. Apparently in kindergarten, during math time, I would sneak over to the classroom book nook to read in lieu of doing the assigned math station…go figure! But it was in third grade when I started writing stories down for fun. And I've never stopped!
You left your "normal" 9–5 job to work from home and pursue your writing career, what was that like and what encouragement do you have for women who are thinking of doing the same thing?
When I first started my writing job as a true 9-5, it was so easy to get distracted with insecure questions like, "What are other business people doing in their 'normal' jobs right now?"
But then one day, I could almost feel God whispering gently, "Will you have the courage to be authentically you? Will you be brave and bear my image with your creativity?"
That changed everything for me.
I think we all need the courage to authentically be who God created us to be.
What is your book genre? Where do you get inspiration for your characters?
Children's literature (or "kidlit," as it's referred to in the publishing world) is my chosen genre, and it could not be more fun!
As a former first-grade teacher, I draw inspiration from all the funny things that used to make my students laugh. I oddly still love kids' TV shows, too!
Do you have a vision statement for your work?
I admire C.S. Lewis so much, and something he said once has never left me: "The world does not need more Christian literature. What it needs is more Christians writing good literature."
How does your faith impact your writing?
Like you, I'm sure, my faith impacts every part of my life. I feel compelled by Jesus' love for children to write good, funny, magical, and adventurous books just for them.
What keeps you motivated to write on the days that your creative well runs dry?
Is it bad that my initial reaction was simply, "Oh!!! Chocolate. Easy. Next question."
But in all seriousness, it's a matter of literally having the courage to just sit down and write SOMETHING. Anything. Be brave enough to not have to have a great first draft. When I'm not trying to impress anyone, that's when the words come.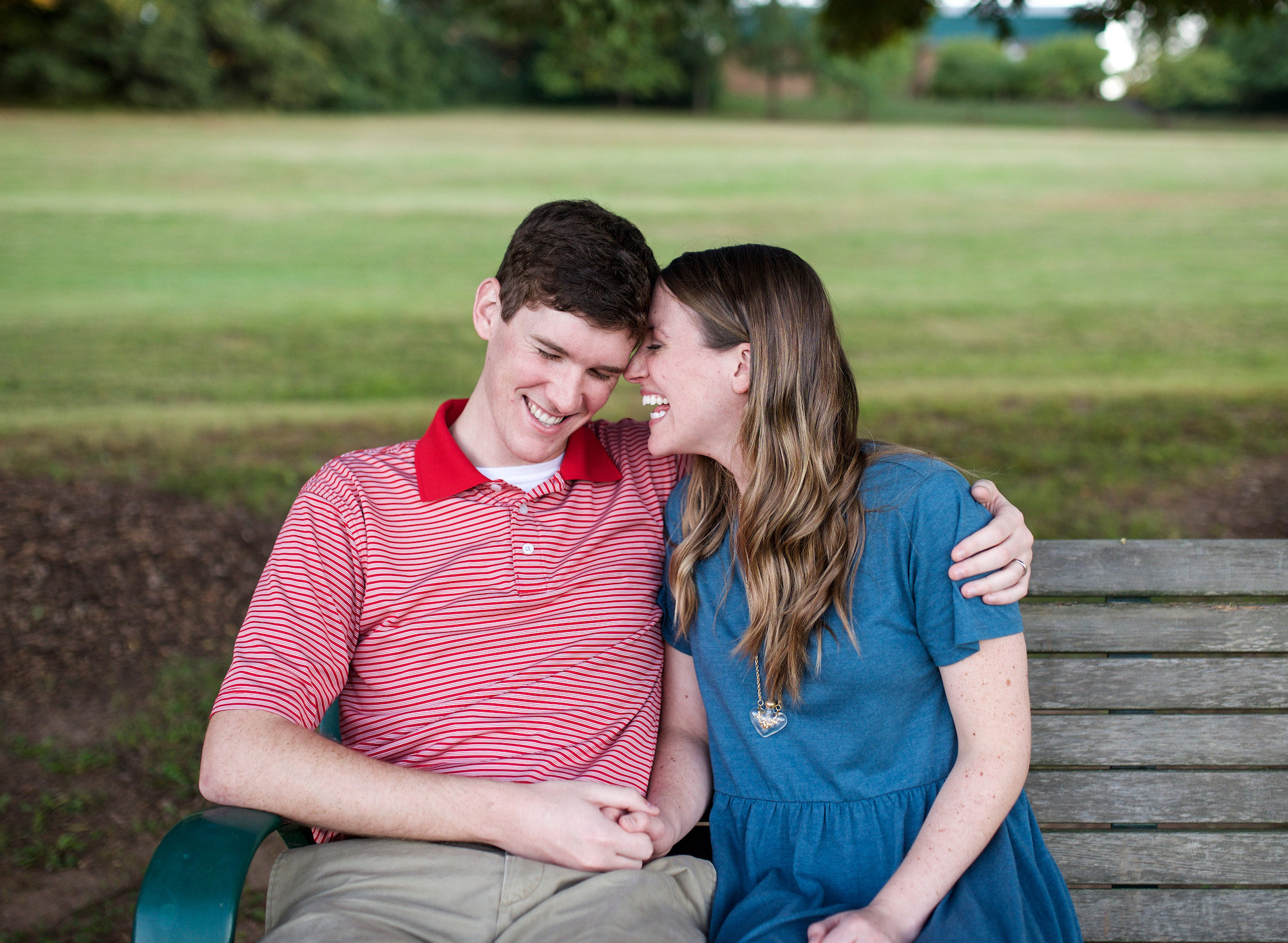 How did you and your husband communicate about your dreams? Was he supportive right away?
My husband, Michael, is amazing. He's the one who encouraged me to step out in faith and follow my dream of writing children's books. We still say almost every day how much fun of an adventure this is for both of us.
How do you balance work, community, personal growth, and a marriage while working from home? Do you find yourself working at all times of the day or did you set boundaries for yourself?
There will be the occasional day when I'm on a creative ROLL, and so I literally just keep writing until my eyes glaze over – Michael thinks it's hilarious. BUT that doesn't happen all the time. I usually make myself stop working at 5 or 6 to put first things first: my marriage. And, you know. Food. 😉
What are some of the young adult books you enjoy that you think adults should read?
There are two books – series, actually – that I thoroughly enjoyed as an adult.
The Gallagher Girls series by Ally Carter – OH. MY. GOODNESS. It's a YA series centered around four teenage girls who are best friends – and also spies! It's literally hilarious and clean!
The Little House on the Prairie series by Laura Ingalls Wilder – It just doesn't get better than a true, good, hearty American pioneer story.
Thank you so much for having me! Happy reading, friends!
You can follow along with Robyn's journey on her website and on Instagram.