Not your Grandma's oatmeal.
In just one year, ProsperOats has become one of the healthiest (and hippest) ways to enjoy a treat with a friend. This oatmeal bar brags freshness with unlimited possibilities to create an oat bowl that fits your foodie self. Jenna Berrios, co-owner of ProsperOats, shares her insights on taking a dream and turning it into a successful business.
How did the idea for ProsperOats originate?
For as long as I can remember, my family and I joked about a place that sold oats. None of them had restaurant experience but we felt like we made fabulous oatmeal that other people would love. My brother and I grew up in an entrepreneurial environement because my dad always owned his own business. We were encouraged to work for ourselves.
As life went on, I found myself in Chile getting married to my husband. We knew then that we would eventually move back to the States because we couldn't afford the lifestyle in Chile. My husband spoke no English and I had been gone for five years and did not have a job to come back to. When we arrived in Denver, my brother had nothing to do and we felt like now was the time to try something new. My dad sold his company and we all dove in full time.
The name comes from Shakespeares', The Tempest. Prospero can turn nothing into something great. We also like the image of  things growing and thriving–prospering.
Where do you source your product?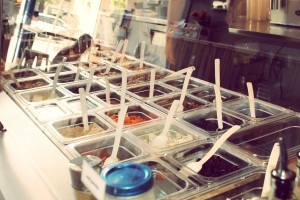 We try to find a way to source things locally. Truly because it is better for our economy and as we invest in it, our community will grow (prosper). We are not all organic at this point, it is very difficult. But, everything is whole and unprocessed. Nothing comes prepackaged or frozen in a can. All fruit and vegetables come whole in their natural state and we chop them up and serve them.
Did you and your husband share the same vision for your family?
We had no idea what we were getting ourselves into and Felipe (Jenna's husband) was a little more hesitant. Felipe had thought it was a great idea in theory but the practice was much harder than expected. At one point, Felipe had to step out and get another job to support us. It was healthy for us at the time because previously we shared all the same spaces together: living and work space were one. Felipe was able to go and make new friends and contacts.
What has God taught you during the process of owning your own business?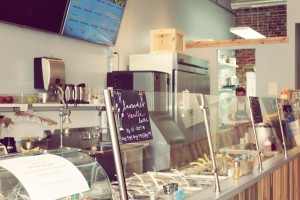 God has taught me that this is not our business but His business. Felipe and I prayed a lot during the months leading up to the opening and allowed God to do what He wanted to do with the business. Through everything hard, things have come back tenfold. God has grown us way more than we expected. He sent us more amazing employees than we could have hoped for. One year in and we are reaping blessings at this point. The success has nothing to do with us but with God.
What is your personal philosophy behind ProsperOats?
We are in the people business not necessarily the food business. We exist for our customers and employees. Our business became good at loving people through food.
How have your church and friends supported you through the first year of ProsperOats?
Our entire staff is from the church we attend and half of our business is people that I know. I am still amazed when I walk into the store and see a friendly face supporting us after a year.
How do you balance motherhood and work?
I am blessed enough that I can do both at the same time. I believe that God wants me to be a mother first, regardless of how well the business is doing. I have had more time to watch our new little girl and the business is still going–I feel like God is blessing that. Also, amazing people surround us.
What's your favorite oats bowl combination?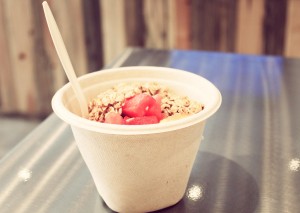 There are a million and five combinations you could make but the PB and B bowl (peanut butter, banana, and sunflower seeds) and the Banana Toffee Malt bowl. These are the first two recipes we experimented with and are still my staples.
Any new upcoming projects for ProsperOats?
We signed the lease on another location the week before we found out we were having our first baby. It seemed too overwhelming to open a whole new store in this season. So…instead we invested in a mobile trailer. We hope to have our mobile location up and running by the end of the summer. It's taking a lot of work because there are new permits, a new menu, and a new process to make sure the food is fresh and quality.