---
Growing up in church, I always heard that God loved me. I heard that He would provide for me. I can remember sitting there in the church balcony, tucked under Dad's arm while Mom sat in the choir loft. I consumed little morsels of the knowledge of God, as well as some Cheez-Its, and I remember thinking, "But if we can't see God, how will He show up when we need Him? He doesn't have arms."
That question remained directly unanswered for years, because God is never rushed or scrambling to prove Himself; yet He knew the answer would come.
It came 25 years later.
—-
When my son, Tage, was born, he was the epitome of a long-awaited gift. Squishy and blue-eyed, I knew that he was what I'd always wanted.
Six months later, I sat beside Tage in a children's hospital as they told me that Tage had a terminal genetic disease.
"Babies with this disease never make it to one year," the doctor said solemnly.
As you can imagine, the room spun. I begged God to change the course of this road.
That's when Tori showed up. Friends since we were five, she knew how badly I wanted to be a mother. We went for a walk, and she bought me coffee. We sat outside the hospital as I wept. "I can't do this, Tori. I can't watch my baby die! Why is God doing this to me? How am I going to live through this?"
"I'm so sorry, Mol," she said with tears falling from her own eyes. "I don't know, but I am not going anywhere."
Over the next two months, I savored time with Tage until Jesus took him home.
During those two months, Tori showed up many days after work. We would walk or she would clean my kitchen. A few months after Tage died, she even invited me to accompany her on a work trip to Las Vegas for a change of scenery. I could lie by the pool while she went to meetings.
Her kindness and love comforted my shattered heart, and that's when my answer finally came: He loves people through people.
Tori wasn't the only person who God used to remind me of His love. Candice made scones that I could freeze and pull out for a quick breakfast. Katie brought me a bag of new running clothes so I could de-stress in the way that meant something to me. Angela sent flowers every month for over a year so there would always be something pretty to look at. Kathryn regularly asked about Tage, and I always cried which was healing. Amy left bags of groceries on my porch.  Michelle showed up and cleaned my bathrooms.  The list goes on and on…
No one person could be the entirety of God to me, but as a Body, they absolutely could. And they were.
"Don't you realize that all of you together are the temple of God and that the Spirit of God lives in you?" 1 Corinthians 3:16 NLT
When we do our little part to love our friends in their grief, and others are doing the same, there is no more beautiful picture of God's tender and compassionate love for His children.
He sends us. We bring Jesus to each other. We are the gift-bearers and comforters. We are to bring love to our friends in their pain.
So today, He doesn't ask us to be everything to everyone. He simply asks us to show some little act of love, and He will multiply it!
Send that card you bought but haven't mailed yet. Text the person who keeps coming to mind and offer words of encouragement. Show up on a doorstep with flowers and iced coffee.
It all matters. In fact, it might just matter most of all.
---
For more ideas on how to show love to grieving friends or to hear the rest of Molly's story, grab a copy of The Moon Is Round: A True Story of Extraordinary Loss, Grief, and the Fight for Faith (available on Amazon).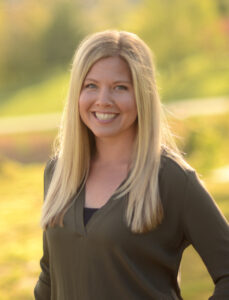 Molly Huffman is a mess-cleaner and toddler-wrangler by day, but a writer and Bible-studier at heart.  Her unique experiences with grief and loss have shaped her love of Christ and His words, and have birthed a desire in her to comfort and encourage others with Scripture.  She and her family live in Morehead, Kentucky, and they will tell you if you want any of the popcorn, don't share a bowl with Molly. You can find her at www.mollyhuffman.com or on Instagram @mollymhuffman.