My husband and I share the spiritual gift of hospitality. We love hosting and serving our community by creating a secondary home of belonging, grace, truth and God's love. Yet, we also feel called to serve the community at large. And so we thought, how could we possibly combine our heart for hosting and our heart to give back? The answer: an intimate fundraising dinner in our home! I'll admit we were a bit nervous to do something outside of our comfort zone but we knew it was the right next thing to do.
Most nonprofits are in need of financial support so, they meet the need by hosting large fundraisers that are usually attended by people over the age of 45. For our Millennial generation, my husband and I knew we needed to engage our friends in a different, less stuffy way while also, demonstrating the importance of giving back. The small gathering seemed like a great fit for us and met a need many local nonprofits are searching for.
THE PURPOSE
As a community of believers, we are called to serve and give back to those in need. We often spend time with out friends just "hanging out" or "chilling" which isn't always bad. But what if our friend time was also an opportunity to meet a local need? When we gather together, we are equipping, strengthening and encouraging one another to serve the Lord by serving others.
When we gather to do good, we share the love of Jesus with our communities and bring glory to God. 1 Peter 4:10a-11b reiterates this characteristic of community on mission: "As each has received a gift, use it to serve one another, as good stewards of God's varied grace… in order that in everything God may be glorified through Jesus Christ."
CHOOSE A CHARITY
For our dinner, we chose a local nonprofit that we knew very little about. I was friends with one of the staff members and decided we'd like to get to know the organization better and bless their cause.
We recommend using a local organization because you can invite some of the staff to attend the dinner to provide an intimate setting for Q and A. Maybe it's an organization you've volunteered with for years or one you've been curious about. I doubt any nonprofit will turn down an opportunity to get their information to the community and receive a donation.
THE INVITATION
The invite doesn't have to be fancy, but it can be a bit more formal. We created a nice pdf (see picture) and texted it to friends. Some formality with a nod to our Millennial methods of spreading the word.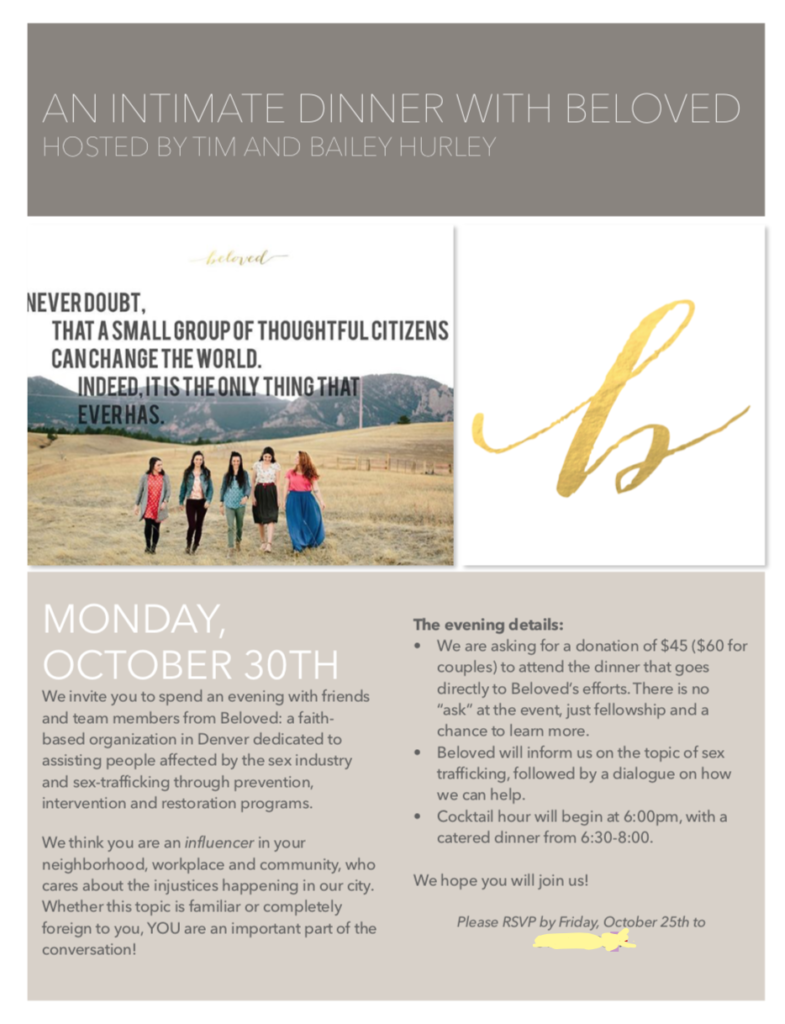 On the invite we included:
Information about the nonprofit
Why we wanted friends to join us
What they could expect from the evening
Donation amount to attend
We invited ten folks from a variety of circles: co-workers, neighbors, small group friends. We tried to ask people who we felt would enjoy this type of gathering and/or had shown interest in the specific cause before.
GIVING BACK
Tim and I wanted to use our gift of hospitality to not only provide a space for a nonprofit to give their information but also, for them to receive a donation. We thought it was best to ask for a donation to attend the dinner ahead of time so there was no uncomfortable "ask" at the meal. Because it was a smaller gathering versus a large public event, we wanted our friends to feel comfortable all evening without the intimidation of giving right on the spot. These days, nonprofits have online donations so we sent over the information to our friends for donating.
It's kind of scary to ask your friends to consider giving so carefully consider how much you'll ask and what you are providing in return.
THE DINNER PARTY
Tim and I's donation was the cost of the dinner. Since, we were asking for a donation we wanted to have a formal dinner. We used cloth napkins and made a fancy cocktail for the dinner.
We had the meal catered (mostly because I do not trust myself to make a nice dinner) and we found a reasonable caterer that was happy to provide a discount when he heard what we were doing. There are always folks who find joy in giving back and are eager to help out.
STRUCTURE
We began our evening by introducing our friends to our guests of honor, the nonprofit staff members. During dinner we kept things fairly casual. And asked our guests how they got involved with this work. As host, think of some intentional questions that everyone could respond to and make sure to let everyone go around and share their name and what they hope to learn from the evening.
After dinner we gathered around the couch to hear about the nonprofit's work and how people could serve, pray or give to the organization. We closed with Q and A and a prayer over the organization's needs and the staff's endurance in their ministry.
PARTING GIFT
We had an additional nonprofit who was aligned with the same cause provide a little gift for each guest—a small scented candle. The gift brought awareness to another organization doing the same thing but approaching the cause in a different way. It also provided just another thanks for our friends' time and support.
LET'S GATHER TO DO GOOD
The evening was beyond Tim and I's expectations. God made situations I thought might be awkward completely natural. He blessed the conversation. He blessed our gifts. He blessed the nonprofit who felt so encouraged and motivated to continue their work. But mostly God reminded us that He uses us to serve Him by meeting the needs of others. We hope to find more creative ways to do good together.
Feeling overwhelmed about hosting without a big budget? No problem! Come read my tips for being the "hostess with the hostess" on a budget!
SaveSave
SaveSave