This holiday season, purchase with a purpose by giving gifts that give back. Not only do the following companies make incredible products that will charm your family and friends, they also support a variety of different causes. May your gifts inspire cheer and charity this Christmas.
Each purchase of these trendy and fun hair ties supports families affected by hereditary breast, ovarian and related cancers. Once they stretch out, I can put them in hot water and they go back to their original form. They also look a lot more attractive on a wrist than the classic brown hair tie.
---

For every item purchased, Mitscoots gives an equal item to someone in need as well as, employing transitioning homeless. Mitscoots has a variety of winter items for her, him, and baby. Last year my husband was gifted with socks from Mitscoots and they are by far his favorite socks to wear.
---
Every purchase of these handmade pieces supports the Guatemalan artisans and their families. The artisans are paid above market wage which supports those who are interested in furthering their education. I bought my diaper bag from them years ago and still use it to this day! Their bags are gorgeous whether you are looking for a day tote, a clutch, or an overnight travel bag.
---
This snail mail loving company donates 10% of their profits to Pencils for Promise, a nonprofit that partners with local communities to build schools and provide education materials to developing countries. The company has over 80 different stamp fonts and also has stamps for weddings and kids.
---
This home goods company creates opportunities for artisans in developing countries to bring their products to the American market in a fair trade relationship. I have shopped some of their clothing pieces before but this bread basket is dreamy. Definitely a great gift for the Bohemian home lover.
---
Untamed Supply brings the beauty of the outdoors inside our homes with their adventure-inspired candles. They donate 3% of their profits to The National Parks! The scent "Hay Ride is by far one of THE best candles I have ever owned.
---
The Dwell City Guide is a 35-page intentional journal to help you uncover the life around you in hopes that you would feel more rooted and content in your new (or familiar) surroundings. 50% of your purchase goes back to The National Alliance to End Homelessness. This guide is perfect for those transitioning to a new city who want to feel like home.
---

Jars of Hope supports organizations around the globe that are fighting sex trafficking. They donate 50% of every sale to their partners. The jars are filled with broken pieces of glass glitter to remind all of us that God is taking our broken pieces and making something beautiful. Each necklace comes in different colors to designate the different countries they support.
---
Horacio Printing creates planners and paper goods to help folks unlock their God-given potential. Each planner provides prompts, encouraging quotes and organization tools to help us not waste a minute of our time here on earth. 10% of every purchase funds A21, a nonprofit fighting human trafficking.
---
We have a few of these around the home and as much as we love eco-friendly and reusable water bottles, we love that this company commits to donating to UNICEF to provide clean and safe water to vulnerable communities.
---
Creator and artist, Allie Blain, went on a mission trip to Uganda and came back a changed woman. 50% of her profits directly sponsors three children in the villages she visited. Her hand lettering creates unique and encouraging pieces for friends, family and the home.
---
Purpose jewelry is crafted by young women rescued from sex trafficking. This organization provides dignity, freedom, independence, and empowerment by employing rescued women to create, pack and ship your order. This necklace has been a staple accessory piece this fall and I am excited to tell folks where it came from and the why behind it.
---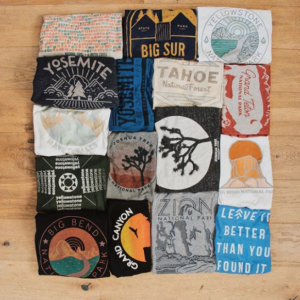 The Parks Project works with over 30 park conservancies to fund important projects in our National Parks. They also inspire Americans to get outside and enjoy the 84 million acres of land that were protected for our benefit.
---
Refugee-made products that restore communities and change lives. This beautiful tea towel supports Syrian refugees in Iraq. I love what the organization has to say about these towels: "Life in a refugee camp offers little space for beauty or imagination, but these tea towels are changing that. Each one provides income and stability for a refugee family—and a renewed sense of purpose for the women who make them."  Check out their candles, soap and knits.
---
A local and global organization, ending generational poverty for women. ABLE is a lifestyle brand that is providing economic opportunities for women to work in a safe and healthy environment. I may have my eyes on these booties here.
---
Love for fashion and people! Francis + Benedict empowers seamstresses in Togo to make these beautifully unique skirts. They also a portion of their profits to resource community leaders. These skirts are one-of-a-kind. Once they sell out, they do not restock them so grab your favorite!
---
A community-minded ministry that provides all sorts of fun home decor and gathering boxes to get people together for a GOOD cause. A portion of each gathering box is donated to a variety of worthy nonprofits. We have a few of their products and highly recommend their home prints, their conversation cards and supper club box.