If Marie Kondo did friendship, she would probably ask us to reconsider the essential practices that will "spark joy" in our gal pal relationships. The woman is the new age Martha Stewart for healthy and simple home routines so folks can have a healthy and simple life. We hold onto the things that give us joy and dump the rest. So, I offer up some of my healthy and simple friendship practices to create a community that "sparks joy."
Less sleep, more sleepovers – quality pillow talk without the sleeping bags
When was the last time you had a slumber party? You are NEVER too old to put pjs on, watch movies and eat junk food after the kids are in bed! 2019 has been our summer of slumber parties! So, I can attest that these evenings of Mario Party, popcorn, rom coms and board games are good for the soul. Carving out this specific type of quality time is a game changer in your friendships. Pillow talk on the couch before we hit our beds sparks joy in my friend time.
The Marco Polo App – the best thing since group text messages
Marco Polo App is the best of social media tool I have used to stay in touch with friends near or far. It is a group video messaging system that allows you to create visual updates to stay in touch with friends. I have used this to stay in touch with my girlfriends back in Wichita, my neighbors down the street and even a friend who recently moved away. You may be rolling your eyes, thinking "I don't need one more dadgum social app." BUT friend, you are going to fall in love…trust me! Telling your daily stories, sparks joy consistently for me and my friend groups.
Show 'Em Your Sweat Stains – figuratively…or literally
I heard this term six years ago at a conference and the visual has stuck with me as a reminder to show people who we are, sweaty pits and all. If you really want to take it to the next level with a friend, start sharing the real stuff. Practice sharing the things you wrestle with because I bet your friend has been there or can offer much needed advice. The foundation of a great friendship is built on trust and vulnerability.
Conversation Cards – the tool to strengthen your small talk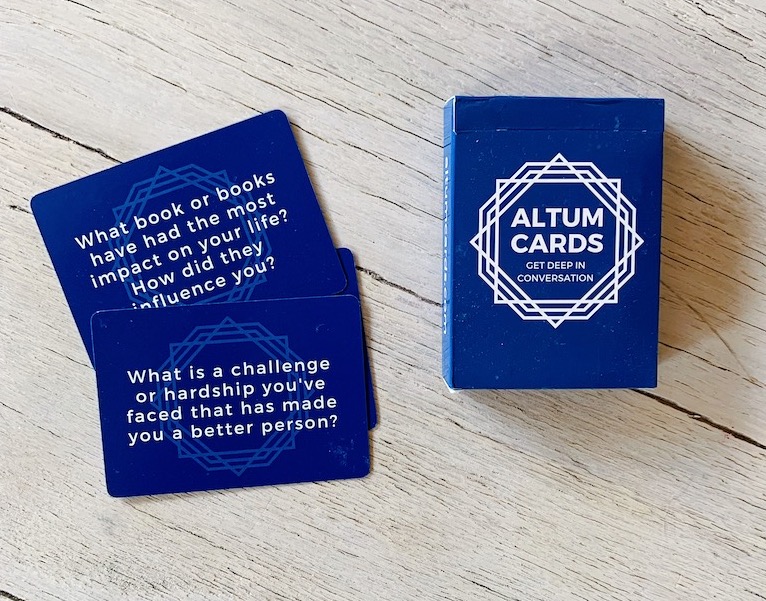 You are never too cool for conversation cards. Why? Because good, deep conversation does not come naturally for most. Stick some in your purse to pull out while you wait for a movie to start or food to arrive at the table. Some of my favorites are:
Lumitory– a beautiful deck of well-rounded questions that I have used numerous times at dinner parties. You can see how I use them in my "Supper Club Revival" article.
Altum Cards– are gospel-focused questions that can be great for families or small groups
Conversation Starters World – when you forget your cards, you can pull up this website that has thousands of questions to get to know the people around you.
Say it like you mean it – 'you're like really pretty"
My mom taught me was to go out of my way to compliment someone. If I thought her presentation was bomb, I will track the girl down and tackle her with a compliment! If a host planned a great group activity, I will write them a note to let them know. Female friend groups could be better about giving a word of kindness to one another. Not a disingenuous comment, but a heartfelt encouragement or show of appreciation. And if you think a girl is "like" really pretty—tell her!