Here are some of my favorite resources to help me think outside the box, get creative and be encouraged to actually GO and LOVE my neighbors. Even in difficult times, we can still build connection with the people next door.
Books on being a good neighbor

26 adorable house shaped cards that include a service challenge and a scripture to read. These cards have been fruitful in helping us love our neighbors and and something my son looks forward to choosing each week.


Door Hangers

A non intrusive way to say hello, see if a neighbor needs anything or celebrate a holiday is to leave hangers on their doors. I wanted to provide an example but found a lot of real estate examples…hopefully it give you an idea of what you could make for your neighbors. 

COVID friendly gathering

It is so much easier to know one another face-to-face, making space to have a conversation longer than the 2min. at your mailbox. A really easy and inexpensive way is to invite people outside for a coffee/lemonade come and go. You can easily socially distance, use plastic cups, and have a reason to gather your neighbors for a safe period of time.
Hopefully one of these resources helps you love your neighbors this year and give you ideas to what you could do in your corner of the world.
---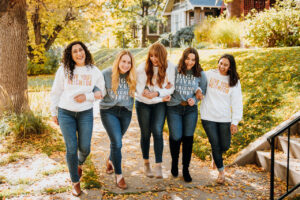 Have you grabbed your Love Your Neighbor Sweatshirt or Long Sleeve yet? Perfect message for this season!