Summer provides a lot of opportunities to foster our friendships. The warm weather and long nights allow us to gather after work, get outside on the weekends and enjoy time together. But to nourish and encourage the depth we want in our friendships, we will need to be intentional with our summer fun.
So, I am hosting a three day #fosteringfriendships challenge to provide you with simple and fun ideas that will develop and promote healthy community-building habits.
Together we will remind our friends they are valued, loved and known.
Are you with us?
Day 1: Write a prayer for a friend and send it to them
Prayer serves our friendships in a variety of ways. We…
take our friends' concerns before the feet of Jesus
speak when they may not have the words
support and encourage them through our words
find forgiveness and reconciliation through conflict
draw closer to God together
Today, I challenge you to write out your prayer for a friend. On a notecard, in a text message or maybe even record it for a phone message. And then send it to them. These prayers will reach the throne room of God and He hears each and every one of them.
More intentional prayer ideas:
Invite a friend on a prayer walk. Catch up and pray as you enjoy some quality time outdoors.
Text or call a friend asking for a prayer request. Then prayer immediately with them via voice call or text.
Find a calendar and write down a friend's name for each day on your calendar. Put it where you can see and pray for a friend each day of the month.
Create a prayer banner for a friend who is about to have a baby, undergo surgery or any other trial that they can hang up and read for support.
Day 2: Meet a Need
Today's challenge is all about listening and looking for the spoken or unspoken needs of our friends—and then MEETING THOSE NEEDS. All of us have seasons in our lives that could use a helping hand but being humble enough to share those needs and ask for help is another level of vulnerability in our friendships. Are we ready to go that deep?
We all want to be the type of friend who is seen as independent, self-sufficient and nearly perfect. Truthfully, aren't we also looking for the kind of friends who don't burden us or disrupt our comfort with their problems? But if we only experience our friends at their best, then we aren't really seeing them as they are fully. If we only give our friends a surface-level version of our "uncomplicated" selves, then we are not giving them permission to be vulnerable. So, we ride the roller-coaster of acquaintance-like friendships.
Yet, God sees another way to do friendship. He asks us to bear one another's burdens and in doing so we are loving God and allowing our friends to be loved exactly as they are; weak, messy and sometimes needy. Let's make room for our friends to be their full selves.
Fostering our friendships is seeing those needs and showing up to help out.
Ideas to Get You Started:
Bring lunch over to a stay-at-home mom (and maybe even do the dishes while she wrangles the kids).
Bring coffee to a friend at work.
Ask to come over for an hour to help someone with their household chores.
Say yes when a friend texts needing help with something (ride to the airport, helping them move, etc.)
Extra Community Challenge: In your community, have everyone write down their name and their current need on a slip of paper. This helps identify that we are ALL in need. You can provide examples like: prayer, work help, childcare, moving boxes, or just needing some friend time. Then fold them up and pass them out to everyone. Each person takes the following week to meet the need on their slip of paper. It's a great way to start practicing sharing and meeting needs.
Day 3: Plan a Friend Date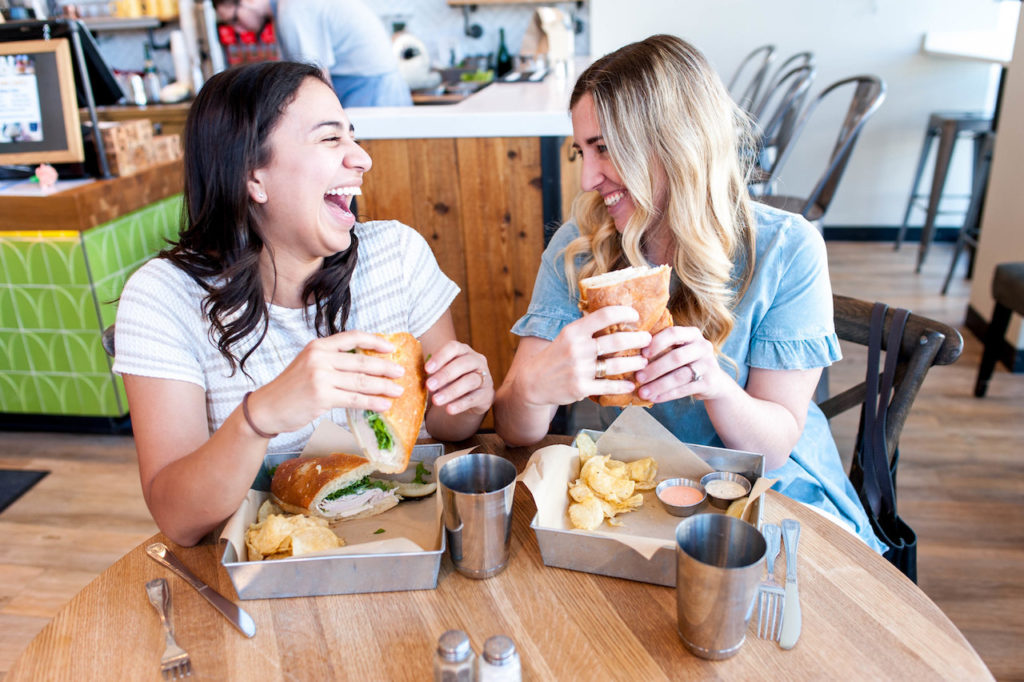 So proud of you for making it to day three! You are really making a difference in your friendships by praying and serving those around you. You are displaying God's love in simple but impactful ways.
Your last challenge is to PLAN A FRIEND DATE. Now is our time to go all out for our friends! Plan an intentional date together. Send a text. Buy her flowers. Have a plan that is specific to making your friend feel appreciated and known.
One of the best ways we can demonstrate God's care to our friends is by pursuing time with them. Often in friendships, our greatest barrier is feeling like our friends don't have time for us or we feel like we are too busy to have time for them. The first is a lie from our spiritual enemy who wants us to believe we are alone and unwanted. The second is an apathetic approach to friendship that needs our attention.
Whichever camp you tend to fall into, I want to remind you of the One who always has time for you and who always wants you to feel valued and special. God is the perfect friend. And as ambassadors of His love, it is our mission to love people just as boldly and extravagantly as God loves us.
Can't wait to see your friend date ideas! Remember to use the hashtag #fosteringfriendships to join the community of women who are strengthening their friendships all over the world (also because I really want to see your fun!).
Some friend date ideas to get you started:
Send your friend a sweet text asking if you can take her on a friend date to the movies. Buy her ticket and her favorite candy.
Create a coffee shop crawl and visit three of your favorite coffee shops! Maybe stop for coffee at one place, a cookie at another and finally more coffee at your last stop.
Go have dinner at her favorite restaurant.
Go dancing!
This 3-day challenge has ended. Thanks to all who participated for working to foster their friendships! If you missed this event, you can subscribe to Long Walks, Deep Talks to be in-the loop for the next one!