Nothing ever happens by chance and community is no exception.
It's a new year and there are new opportunities to be intentional with your community. Want to see your friendships flourish this year? Want to finally step out of your comfort zone and get vulnerable with your small group? Wish you had more quality connections? Well, this year can be a year we both commit to going "all in" when it comes to building rooted community.
Here is a list of some great resolutions you can take, adapt, or use as a jumping point to create your own friendship resolutions for the year. Think big because God is going to use your intentional actions to grow fruit in your friendships this year. I am getting excited for you just thinking about how faithful our God is in providing people to enrich life and grow His gospel.
Note: Start where you are. If you have a tight-knit group of friends then maybe you can adopt more practices. If you just moved to a new city, maybe try one or two new things and switch your practices up as your season changes.
YEARLY
Plan an epic girls trip to a faraway country or to the next town
Visit a friend who has moved to a new city (suggestion from: Kinsley Sachse)
Write down friend birthdays in your planner
Choose 5 friends to get to know better this year, depth over breadth (suggestion from: Elizabeth Mayberry)
Take more pictures of the people you love being around (suggestion from: Alina Glover)
Read Life Together by Dietrich Bonhoeffer and host a book club with friends!
Host a PJ and Popcorn and Pedis party
Volunteer at a local ministry together
Galentine's Day!
Camping trip (because nothing bonds people together like sharing a tent with folks who haven't showered in days)
Read Life in Community by Dustin Willis (which includes a 6 week study)
Surprise a friend with a picnic lunch
Grab some friends and get your hair done to celebrate an anniversary or work victory
Write a list of all the qualities you look for in a friend and then work on trying to be that friend for others
Create a ceremony to remember God's truth's together. Light some candles, brew some tea, and share what God has done this year.
Read Nobody's Cuter than You by Melanie Shankel and write down some of your favorite friendship memories to remind you of the faithfulness God has provided in your friendship
Host a kickball tournament
Sign up to run a race together
Consider purchasing some conversation cards to aid your intentional table talk
Host a spaghetti dinner without the plates and forks, seriously! Just put down trash bags and pour the spaghetti and bread sticks on the table. Dig in.
Reconnect with an old friend
MONTHLY
Write a letter encouraging a friend
Facetime date with a long-distance friend
Clean up someone's yard
Plan a Cake Day
Drop off a meal to a friend in need (or just because)
Get outdoorsy and plan a monthly outdoor adventure
Introduce yourself to one new person, or that same person you've seen twenty times but still haven't exchanged names
BRUNCH!
Double-date
Host a favorite things party
Offer to babysit so your friend can have some "me-time"
Invite all dog-owner friends for a walk around the park
Offer to watch a mom-friend's kids for a few hours
Double-date with a favorite couple
Host a dinner where you dialogue about God's vision for community found in Scripture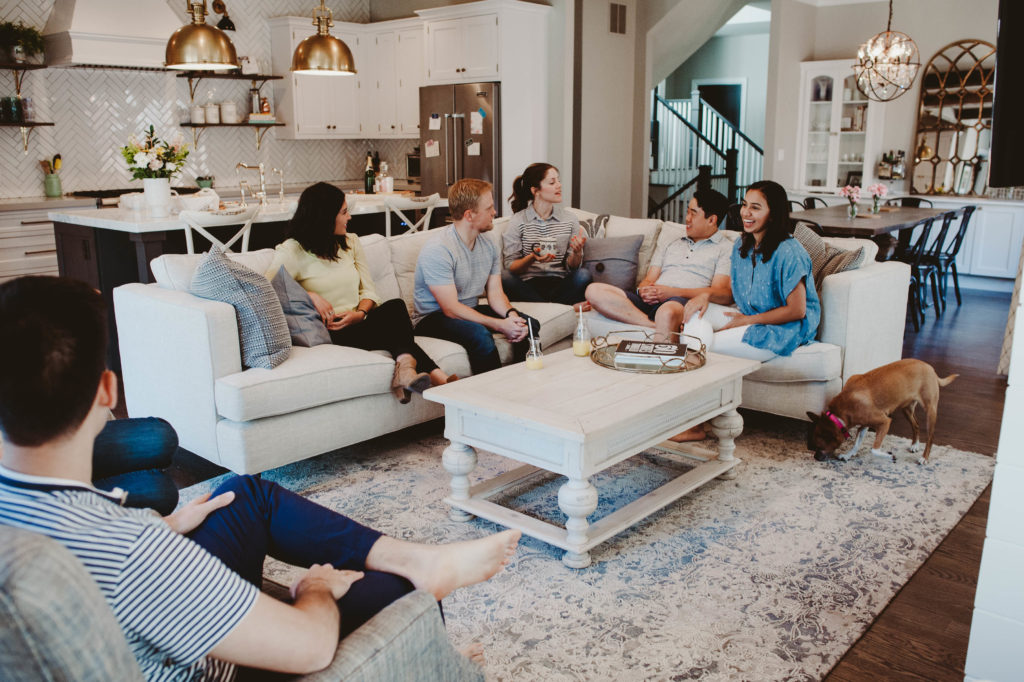 WEEKLY
Pray for one friend each week (that's 52 people you will have prayed for in 2021!)
Think ahead and plan one weekly friend date (coffee or milkshakes?)
Weekly phone date with a long-distance friend
A Sunday dinner with friends
Listen to the Friend Forward Podcast for regular friendship advice
Create freezer meals for the week together
Bookclub with Together is a Beautiful Place
Attend a workout class
Bible study (Jen Wilkin has some of my favorite guided studies)
Playdate at the park
Start a prayer text thread
DAILY
Choose to use positive language when talking with friends
Read your Bible to encourage your friends with God's truth
Journal five reasons you are thankful for your current friends
Ask more intentional questions and actually listen to the response
Text an encouragement or Scripture verse to a friend
Giving your friends the benefit of the doubt
Praying you see God's richness in your relationships this year! May you surprise yourself by stepping out of your comfort zone, planning ahead and creating a new community habit that builds a lifetime friendship.
Want more one-on-one help setting goals specific for you? You can schedule individual friendship coaching here. Can't wait to help you discern what your next right steps are.
SaveSave